1920's Mansion 3BR, 2BA
•

1930's Guest House/Studio

•

Approx. 3 Acres

•

One-of-a-Kind Huge Compound – in the Heart of Hollywood

•

Truly unique oasis of privacy, tranquility, natural beauty

•

$8,500,000

2025 N Highland Ave, Los Angeles, CA 90068, USA

A truly rare, exceptional, massive property, rich with the lore and luster of Old Hollywood, classic celebrities, LA history, arts and artists — all set in the midst of New Hollywood's best and biggest attractions. There is nothing like this. Nothing! This is a rare environment, indeed! To have your very own nature preserve style approximately 3-acre private area in which to hike up and watch the sunset's last rays hit the Hollywood sign on the hills to the east or sit in the stone amphitheater half way up the back slope for wine and a private poetry reading with friends or wander down the specimen-tree lined path past the little new vineyard and waterfall or sit in the trellised courtyard in Golden Hour — it's all part of this unique space. But best yet, this is all just a five minute walk from home to the Hollywood Bowl or down into the heart of what's happening in New Hollywood. There is absolutely NO place like this one!
The residences themselves are classic 1920's and 30's, lovingly restored. While the spaces might not be quite as imposingly majestic as today's modern concrete and glass trophy homes, they are warm, comforting, calming with a strong connection to all the natural wonder and beauty that surrounds the homes.  Living here evokes an era when life was beautiful, fashionable, refined — and a little privileged!
The main residence is a beautifully-done Mediterranean Revivial: richly-finished smooth stucco exteriors, arched glass entry, tall French door windows everywhere, stone fountains, flag stone walkways with Roman columns and gardens, a cascading concrete and stucco waterfall that empties into a lily pond along the curved drive area some 70 feet below the mansion entrance. And one unexpected finish: spectacular blue Asian ceramic roof tiles that take the Mediterranean Revival look a couple steps beyond!
The secluded, tree-shaded walkway, arched entry with tall flanking columns and wrought iron gates of the Main House are impressive yet truly inviting. There's a comfortable scale to the entry that seems personal and engaging. Just inside, the another unique space: a rotunda-like courtyard foyer with a fountain and small reflecting pool of Batchelder tile. The walls are finished in traditional Italian art glaze. And over it all, a massive glass-paned cupola with a more recently created art glass skylight of many colors. It's another unexpected touch.
There are six doorways off the rotunda. One leads to the formal living room with its three walls of full-height windows that bring the outdoors right inside. The magnificent light, the lush outdoor scenes, the soft breezes, the sound of a hillside waterfall — these all combine to make this an interior room of calm and revitalization. A Batchelder-tiled fireplace brings cozy warmth on chilly fall evenings.
Another door off the foyer leads to what might have once been a bedroom but is now a spacious den/family room with a totally private outdoor patio and that cool hillside waterfall, all accessed through double French doors.
A third door leads to a jewel of a formal dining room with tall wall-spanning windows on two sides. The views here make your feel like you are dining among the treetops!
A fourth door leads to a large kitchen and prep area which has undergone a touch of modern conveniences renovation. Beyond the kitchen is a small bedroom and bath with a private entry/exit to the back courtyard area.
Another door leads up the stairs to the second level with the Master Bedroom, Second Bedroom and a main bathroom. Each of the bedrooms is lined with big, fully opening windows for tons of light and fresh breezes. The views out the windows of the east-facing bedroom to the mountains and the cool homes on the Whitley Heights hill are magical.
Exiting the back of the main house takes you through winding gardens and a walled courtyard with a small Italian wall fountain, anoverhead planted arbor with festival lighting and a sitting/dining area.
Step through the low gate at the far end of the courtyard and a rustic path leads to the charming back flat-roof bungalow, once the home of the Hollywood Arts Center School. This has a U-shaped layout with large, bright living room, spacious eat-in kitchen, dining room and a huge bedroom/study/sitting room with tons of windows and French doors. It's a marvelous retreat for guests or a low-key "at-home staycation" escape house!
Below the living room is the space that was once the art school's sculpture studio.
Across the lower drive from the sculpture studio is another building that, in its initial incarnation, was a carriage house but was later turned into the painting studio for the school.
There are three other structures on the property. One, set at the south end of the entry parking area, is the two-room caretakers cottage. Another is a glass green house set high up along the hillside path and alongside it is a truly impressive curved stone-seat ampitheatre that seats about 60-100 people - perfect for wine and poetry fests or Shakespeare nights with the neighbors!  An added bonus? There's a pretty cool view of the Hollywood sign from this vantage point!
Approximately 3 acre lot – on Highland Avenue
Secluded, wooded, natural oasis-style compound in the heart of Hollywood
5 minutes to Hollywood Bowl, Ford Theatre
5 minutes to Hollywood & Highland
1920's legendary restored mansion - 3BR, 2BA
Multiple courtyards, patios, gardens, fountains, arbors
Outdoor parking for 30+ vehicles
1930's Guest House & Art Studios
Former home of Hollywood Art Center School
Winding nature path up hillside to Glencoe Way
Waterfalls, fountains, small vineyard, 
50-seat stone hillside amphitheatre with views
Hilltop views to Hollywood sign, Whitley Heights

Bob Friday
Director
DRE# 01218663
310.720.9979
bob@bulldogrealtors.com
BobFriday.com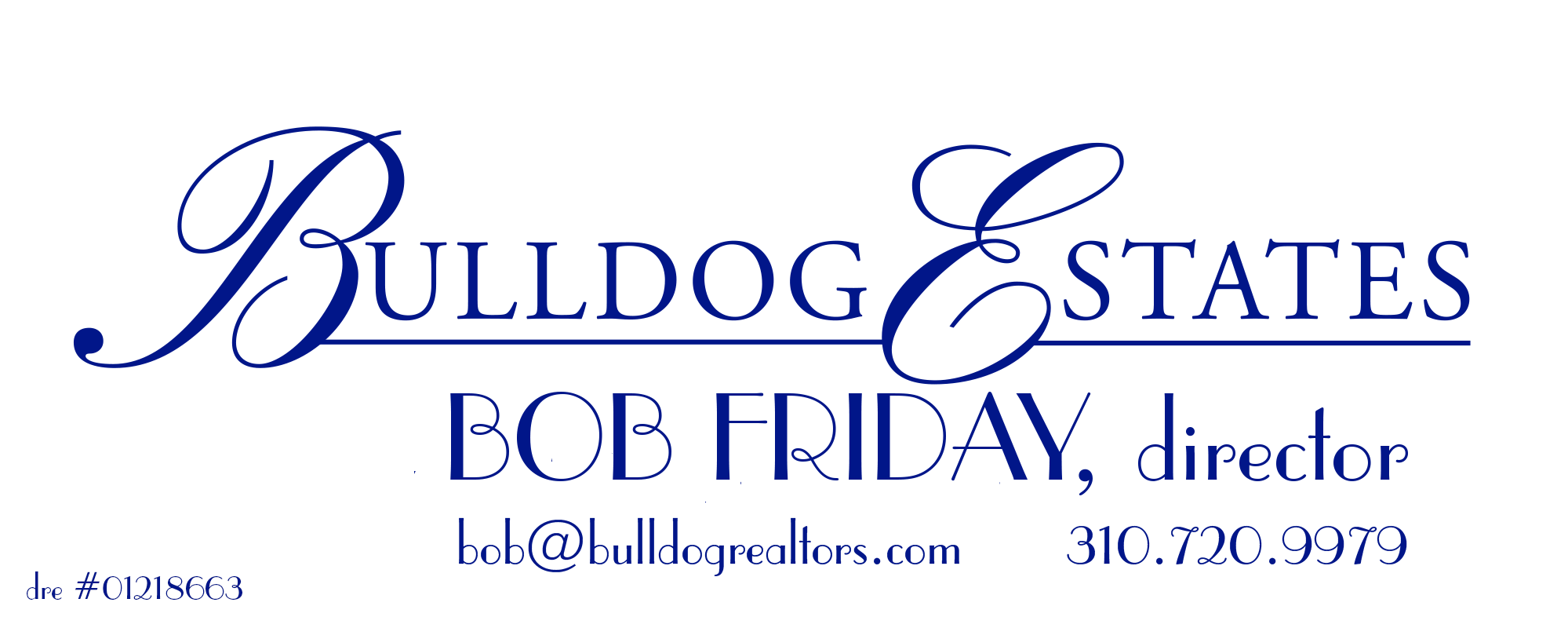 BulldogRealtors.com
1209 Abbot Kinney Bl.
Venice, CA 90291
DISCLAIMER:

Broker/Agent does not guarantee accuracy of square footage, lot size or other information concerning conditions or features of property provided by seller or obtained from Public Records or other sources. Buyer is advised to independently verify accuracy of all information and sq footage through personal inspection and with appropriate professionals.